Book: Made in Amsterdam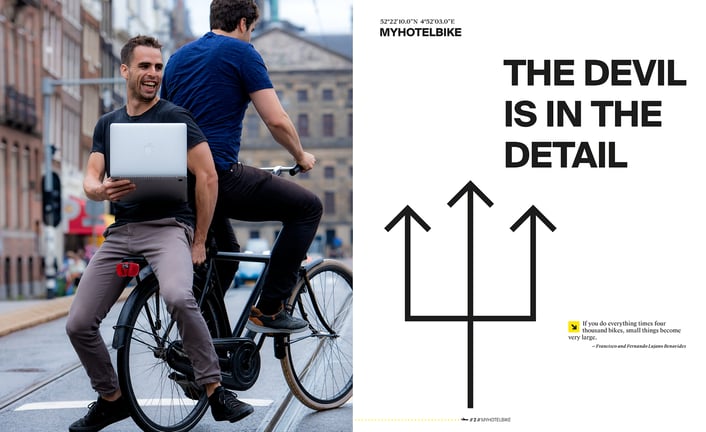 Book: Made in Amsterdam, 11 March 2020
52°22'10.0"N 4°52'03.0"E MYHOTELBIKE
THE DEVIL IS IN THE DETAIL
"If you do everything times four thousand bikes, small things become very large."
— Francisco and Fernando Lujano Benavides
IT CAN ALWAYS BE FASTER. BETTER. MORE EFFICIENT
Two young brothers with no money decide to offer worn out, fifth-hand bikes to hotels for rental to guests. Within a few years, they build an international multi-million dollar company on this idea. Their secret? Think tiny.
Headache
It's 2010. To earn a bit of cash, Francisco and Fernando Lujano Benavides do up old bikes, to then place them for rental at budget hotels in Amsterdam. The concept works but is not without headaches. Flat tyres, lost keys, mixed-up locks, all kinds of hassle. Moreover, the entire reservation process results in mountains of paperwork for both the boys and their hotel partners.
Breakthrough
The breakthrough comes when the brothers bluff their way into a meeting with an upmarket hotel. The manager expresses an interest in using their bikes, provided they can offer a digital reservations system. Armed with little more than some basic HTML knowledge, that very night the brothers manage to programme a rudimentary online system. The next day they return, and the hotel manager keeps his word: the first four-star hotel on their books is a fact. And then things start moving quickly. Where competitors opt to build their own brand, the brothers decide to brand their bikes in the hotel colours. A stroke of genius that swiftly brings in new hotel partners. But the simple, yet crucial insight that really catapults the young company ahead is 'time is money'. The brothers understand that maximum, almost maniacal efficiency, is their competitive edge. This means that every last detail of their business is analysed and improved until it simply cannot be any more efficient.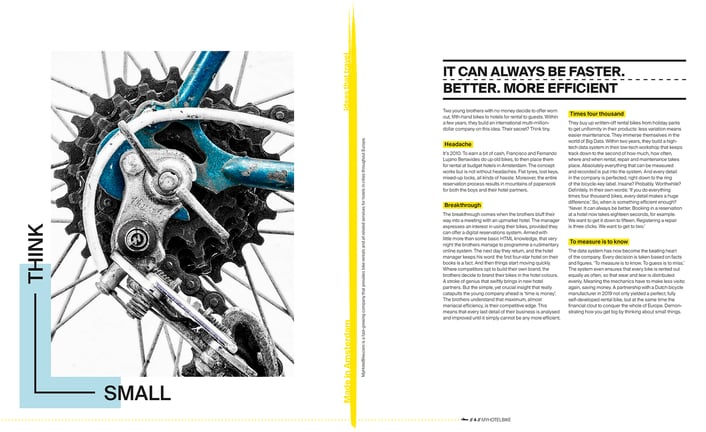 Times four thousand
They buy up written-off rental bikes from holiday parks to get uniformity in their products: less variation means easier maintenance. They immerse themselves in the world of Big Data. Within two years, they build a high- tech data system in their low-tech workshop that keeps track down to the second of how much, how often, where and when rental, repair and maintenance takes place. Absolutely everything that can be measured and recorded is put into the system. And every detail in the company is perfected, right down to the ring of the bicycle-key label. Insane? Probably. Worthwhile? Definitely. In their own words: 'If you do everything times four thousand bikes, every detail makes a huge difference.' So, when is something efficient enough? 'Never. It can always be better. Booking in a reservation at a hotel now takes eighteen seconds, for example. We want to get it down to fifteen. Registering a repair is three clicks. We want to get to two.'
To measure is to know
The data system has now become the beating heart of the company. Every decision is taken based on facts and figures. 'To measure is to know. To guess is to miss.' The system even ensures that every bike is rented out equally as often, so that wear and tear is distributed evenly. Meaning the mechanics have to make less visits: again, saving money. A partnership with a Dutch bicycle manufacturer in 2019 not only yielded a perfect, fully self-developed rental bike, but at the same time the financial clout to conquer the whole of Europe. Demon – strating how you get big by thinking about small things.