Newspaper: Trouw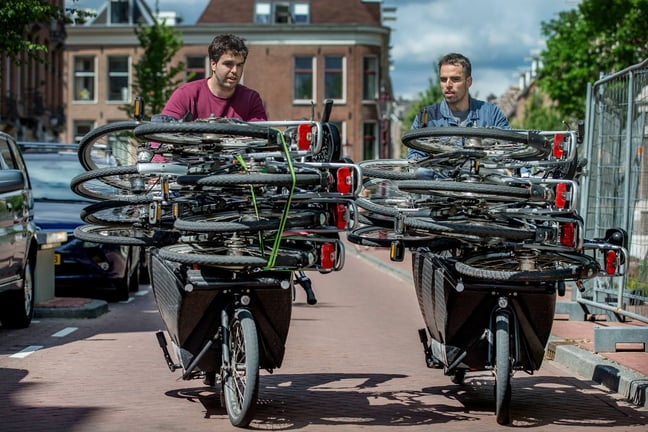 How two brothers started restoring bicycles on the streets and turned passionate work into MyHotelBike. The brothers Francisco and Fernando Lujano Benavides started refurbishing decayed bicycles eight years ago by servicing hotels with an easy-to-use online platform in order to rent out the restored bicycles to hotels. Now their company is active in three countries.
Originally written by Jeannine Julen and published in Trouw on 13 May 2019.
Servicing hotels
Over 3,300 bicycles are located at 297 hotels in 30 European cities, across 3 countries. All the way from Antwerp to Berlin. Hotel visitors simply hop on a bike and criss-cross these cities, be it a (wobbly) tourist on a two-wheeler or as a business guest who needs to be hurry to his next appointment.
MyHotelBike is now the Netherlands' largest bicycle rental company for hotels and is also making a furore beyond the national borders. 30-year-old Francisco Lujano Benavides – "Call me Pancho, all Francisco's in Mexico are called Pancho" – shines as he talks about it.
Sixth-hand bicycles
Back in 2011, Pancho is slightly over 20 when he and his brother Fernando, who is 2 years older, roam the streets of Amsterdam passing discarded bicycles for the umpteenth time. The bikes are seen chained to bridges, piled up at stations, wrongly parked in front of supermarkets and on the porches of houses. Sometimes untouched for months, waiting for the municipal collection service to move them to the scrap yard. "We have to do something with that", the two conclude.
It starts with refurbishing those, as the brothers refer to it, sixth-hand bikes and to sell them, initially to individuals. However, in the end the Lujano Benavides brothers see more salvation in a long-term relationship than in those with the fleeting commuter who scores another bike a week later. Later, another brother comes into the picture: Ruben this time. Playing an imperative role, as he works at a hotel and arranges that they can rent out their first bikes.
A creative storage solution
Fast forward, Pancho and his brother have been busy for three years. They employ a handful of mechanics, but do not own premises. They repair the crumbly two-wheelers, for lack of a better location, in the storerooms of neighbours. "If you make your storage available to us, we will pay your telephone bill," the brothers tell their neighbours. This is how the two negotiated their way into refurbishing dozens of bicycles, requiring many repairs, in different storage rooms across Amsterdam.
Soon they realise the storage spaces are also becoming too small. In just eight years, they have expanded their number of bicycles from 4 to 3,358 pieces. From 1 and 2 star hotels that offer rental bikes to their guests at bargain prices, they climb to 4 and 5 star hotels such as Mövenpick and Pestana. In addition to the sixth-hand bikes, brand new bikes are now available. They are now doing repairs near the Overtoom, Amsterdam. There is a collaboration with major bicycle manufacturers, and an acquisition, by buying out a large competitor from the market, MyHotelBike is suddenly the largest player.
All with the distinguishing factor: sustainability. No plastic or large quantities of cardboard around the newly delivered bicycles. Also no delivery vans for moving or repairing bicycles, they pick up bicycles to be repaired with a cargo bike. Or a mechanic cycles to the hotel to deliver the bicycles. Even if it is 30 kilometers away.
First company
When Pancho looks back, entrepreneurship is in his blood, he says as he walks into the garage on the Overtoom. His parents have been on the street market for years. As a little kid he sometimes helped with selling Mexican arts and crafts.
He also talks about his very first 'enterprise'. He was about ten years old when he, his brother, and a friend rang the doorbell to ask if they could wash cars for a tenner. Yes, the neighbors said. But the three only had a bucket. "Can we borrow some water and soap? To wash?". The neighbors agreed. When the tenner was in the pocket, they would also ask if they could vacuum. "But then we do want to borrow your vacuum cleaner. That will cost another ten." Laughing he says: "The company did not last because there emerged an automatic car wash for just five guilders (Dutch currency)."
What once started out as a way to make money has now completely changed their way of life. Pancho does everything by bike. If he goes to another city, he also takes the bicycle, or the train. Never the car. They separate waste in their premises on the Overtoom. Recently he started doing the same at home.
Cycling, he hopes, will become a culture. A connecting factor. He dreams out loud: "We hope to be able to inspire the whole world to travel by bike." What about those tourists who wander through Amsterdam wobbling and shaky, to the annoyance of many Amsterdam residents? Pancho: "But if they cycle more often, then they'll only get better at it, right?"